Top Fintech Events at SXSW 2018
.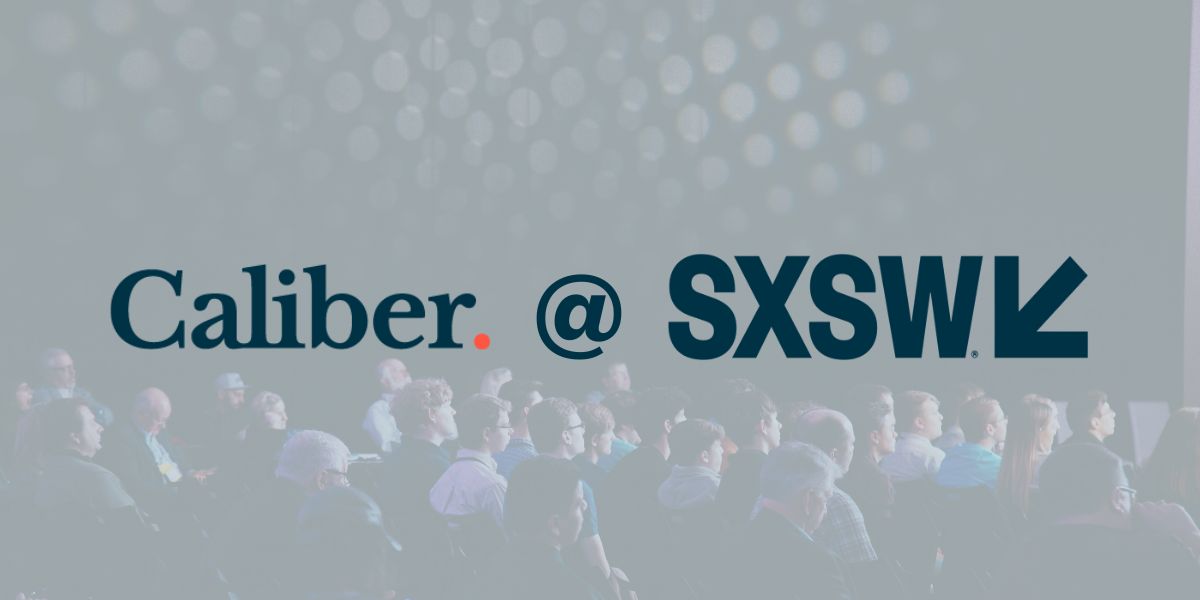 SXSW Interactive is one of the biggest and most exciting technology events of the year – and it's only gotten bigger.
This year, SXSW has increased its fintech programming, ranging from industry meet ups and panel sessions to the exclusive SXSW Accelerator Pitch Event where five payment and fintech startups will contend for a place among SXSW's exclusive class of winning companies and success stories.
With thousands of events packed into the Interactive conference track, it can be difficult to discern the very best opportunities to learn and network.
To help make the most of your time in Austin, Caliber's team has put together our highly curated SXSW event round-up, highlighting some of most anticipated events and speakers in the fintech community.
Read on and shoot us an email if you'll be attending – we would love to connect!
SATURDAY, MARCH 10
11:00 am – 12:00 pm
Ant Financial and Alipay are transferring hundreds of cities in China into cashless ones. Learn from design director, Shanying Leung, who helped Microsoft to build the largest design team in China before joining Alibaba in 2014.
Blockchain and the Decentralization of Finance
2:00 pm – 3:00 pm
A diverse group of panelists will review recent market and legal developments, share thoughts on the future of token economics, and identify areas of financial life that remain ripe for blockchain-enabled disruption.
The Bad Crypto Meetup During SXSW
5:00 pm – 7:00 pm
It turns out there's going to be a ton of blockchain and crypto enthusiasts in Austin, so we thought that we would throw a little happy hour meetup.
5:00 pm to 8:30 pm
FinTEx Chicago and FinTech Professionals Association are teaming up to host an exclusive, private VIP FinTech event during SXSW.
Startup Night SXSW 2018 Presented by the Kauffman Foundation & TechCo
8:00 pm – 11:59 pm
Celebration of startups, entrepreneurial ecosystems, and inclusivity.
SUNDAY, MARCH 11
SXSW Accelerator: Payment and Fintech
11:00 am – 12:00 pm
Early stage technology startups pitch their product to industry technology experts and VCs.
12:30 pm – 1:30 pm
This Meet Up will work towards building a playbook for the emerging cohort of fintechs looking to quickly and sustainably grow to scale through a confluence of AdTech, Big Data, and marketing.
3:30 pm – 4:30 pm
Discussion on what business might look like in a blockchain enabled future and how the choices we make today are shaping the next generation of e-commerce.
MONDAY, MARCH 12
11:00 am – March 13 at 8:00 pm
The SXSW Crypto Summit is the perfect place for blockchain enthusiasts, investors and the crypto-curious to learn from the community's leading experts, get the latest insider knowledge, and make valuable connections.
Mexico: Fintech Leaders, New Regulation, and Trends
11:00 am – 12:00 pm
During the session the Fintech Mexican ecosystem will be analyzed and success stories will be shared.
Innovation Lessons from Fintech Frontlines
12:30 pm – 1:30 pm
Panel discussion about the realities, challenges, and opportunities of moving from idea to market.
Banking Disrupted: The FinTech Opportunity
3:30 pm – 4:30 pm
Industry insiders provide insight into what's next, how fintech companies can partner with FIs, and where the opportunities lie.
The Quantifiable Business Benefits of Blockchain
5:00 pm – 6:00 pm
This panel will reveal some of the surprising ways blockchain technologies are being applied in industry today and give insight into what benefits companies can look forward to in the future.
TUESDAY, MARCH 13
Side Hustle Nation: American Dream or Nightmare?
12:30 pm – 1:30 pm
Explores how technology is changing the nature of work in America to assess whether the gig economy and the role of fintech in advancing the financial health.
Fintech Needs A Human Touch: Lessons from Africa
3:30 pm – 4:30 pm
African markets have pioneered many of the most interesting recent developments in financial technology.
WEDNESDAY, MARCH 14
Cryptocurrencies: A New Future for Money
11:00 am – 12:00 pm
This talk will illuminate the possibility of a new financial system and describe cutting-edge research being done at MIT to build the future of money.
THURSDAY, MARCH 15
How Blockchain Will Impact Financial Markets
3:30 pm – 4:40 pm
Find out how blockchain can address legacy infrastructure problems such as data fragmentation, reconciliation, and trade matching to achieve huge efficiencies and cost savings.
Back To Resources