Three Things Fintechs Should Look for at SXSW 2022
.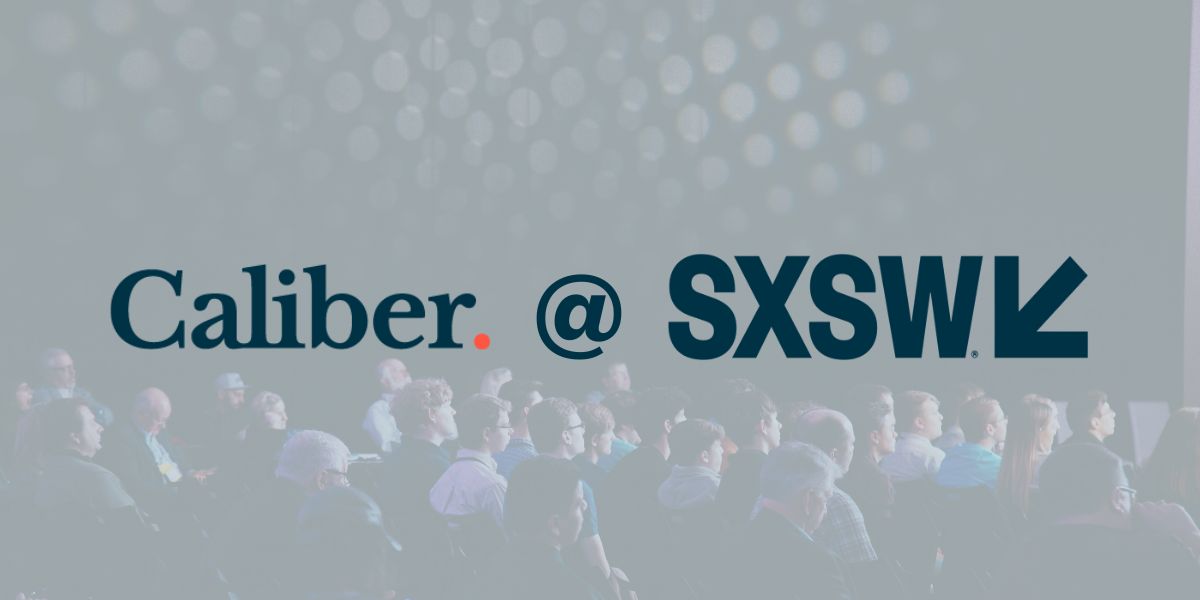 A snapshot of the events, sessions and trends you need to know about to make your time in Austin worth the investment
We get it. You're wondering: Should I attend SXSW 2022? What's happening at SXSW for fintech? Who attends SXSW? Is it worth it for me to go? Since 2017, Caliber has been at SXSW working behind-the-scenes and connecting players in the fintech and financial services industry. We're here to give you three things fintechs should look for at SXSW 2022, with a snapshot of the events, sessions and trends you need to know about to make your time in Austin worth the investment.
High-Quality Fintech Networking Opportunities
Conference Sessions for Fintech and Finserv
Trends
1. High-Quality Fintech Networking Opportunities
If you know where to look, you will find opportunities to network with fintech founders, investors, and other finserv players at SXSW 2022. Here is our list of high-quality fintech networking opportunities over the weekend of March 11-13, 2022 and throughout the following week.
Franklin & Fintech Dinner Party
Saturday, March 12, 2022
Request an Invitation to Franklin & Fintech Dinner Party
Caliber is joining forces with industry players like The Financial Revolutionist, Rise by Barclays, Episode Six, and Alloy Labs to host an exclusive, invite-only dinner party for movers and shakers within the fintech industry at world-famous Franklin BBQ. For years we've hosted events to connect those in fintech at SXSW, and we're back for another dose of high-quality networking this year. Space is very limited.
Fintech Luminaires Party
Sunday, March 13, 2022
Request an Invitation to Fintech Luminaires Party and House
To make it easier to make the right connections amongst the throngs of "fintech curious," Alloy Labs Alliance created the Fintech Luminaires reception years ago to ensure the guests you interact with are deep in the fintech space. As one guest said after the last in-person event "by far the most productive time I spend at SXSW." Caliber has been a partner for this event for many years – we can vouch that it's one you won't want to miss.
Fintech House
March 13-14, 2022
Request an Invitation to Fintech Luminaires Party and House
Fintech House is a quiet place to put up your (tired) feet and engage in (inside voice) conversation with other fintech pioneers and cross-industry experts.
Other Opportunities for Industry Players
2. Conference Sessions for Fintechs & Finservs
How do you figure out what's relevant for you in the SXSW 2022 lineup? (And, we aren't talking about the music!) There is a plethora of incredible conference sessions at SXSW…To stop yourself from getting overwhelmed, you could simply follow a track – for example, tech industry, startups, design, 2050 or advertising and brand experience might interest you.
Or, you could check out our handpicked list of SXSW conference sessions for fintech and finserv audiences, showcasing up-and-comers as well as the venture capital firms, fintechs and financial services companies whose names we all know.
SXSW Pitch
March 12-13, 2022
Returning for its fourteenth year, SXSW Pitch will showcase some of the global startup ecosystem's most exciting, innovative, and cutting-edge technology. This year's competition will feature 45 interactive technology companies from 9 different categories. These companies will dazzle a live audience with their company pitch and Q&A with our panel of judges.
Access the full SXSW Pitch schedule here.
Product & Consumer
AI
Human + Artificial Intelligence: A Winning Blend. More info.
Moneyballing Venture Capital (VC + AI). More info.
NFT/Crypto/Blockchain
Are Synthetics a Fad or Breakthrough for Finance? More info.
Bitcoin DeFi – The Latest Developments. More info.
Beyond the NFT Hype: Unlocking Token Economies. More info.
Social Good/DE&I in Fintech & Finserv
Featured Session: Making Investing Culturally Relevant. More info.
Driving Innovation & Inclusion in Digital Assets. More info.
Solving the Black Founder Puzzle. More info.
Startup/Scaleup
RegTech/Policy
Financial Surveillance in a Cashless Society. More info.
Foster and Protect: Tech + National Security. More info.
Fintech for the Music Industry
SXSW Mentor Sessions for Fintech + Finserv
3. Trends
SXSW is the place to observe and engage with emerging trends, and many are relevant to fintech and finserv. Here are a few trends that surfaced in the companies that applied for SXSW Pitch. We have no doubt you will see and hear about these five trends all over SXSW 2022, including in your networking and conference sessions.
NFTs are everywhere.
Metaverse is a buzzword that's not going anywhere.
Pandemic impacts on work and life are here to stay.
Tech integration is ubiquitous.
ESG continues to grow in importance.
We hope we have given you a clearer picture of what's happening at SXSW 2022 for fintech, finserv and other industry players. With this list of the three things fintechs should look for at SXSW 2022, you're in-the-know about the events, sessions and trends that will make it worth attending. If you'll be in Austin at SXSW 2022, connect with us on social media using #SXSWfintech. We look forward to seeing you there!
Back To Resources
Up Next.
Caliber Corporate Advisers Starts 2022 with Strong Momentum, Fueled by New Hires and Client Growth.
Read More