Staff Spotlight: Caliber Managing Director Scott Paer
.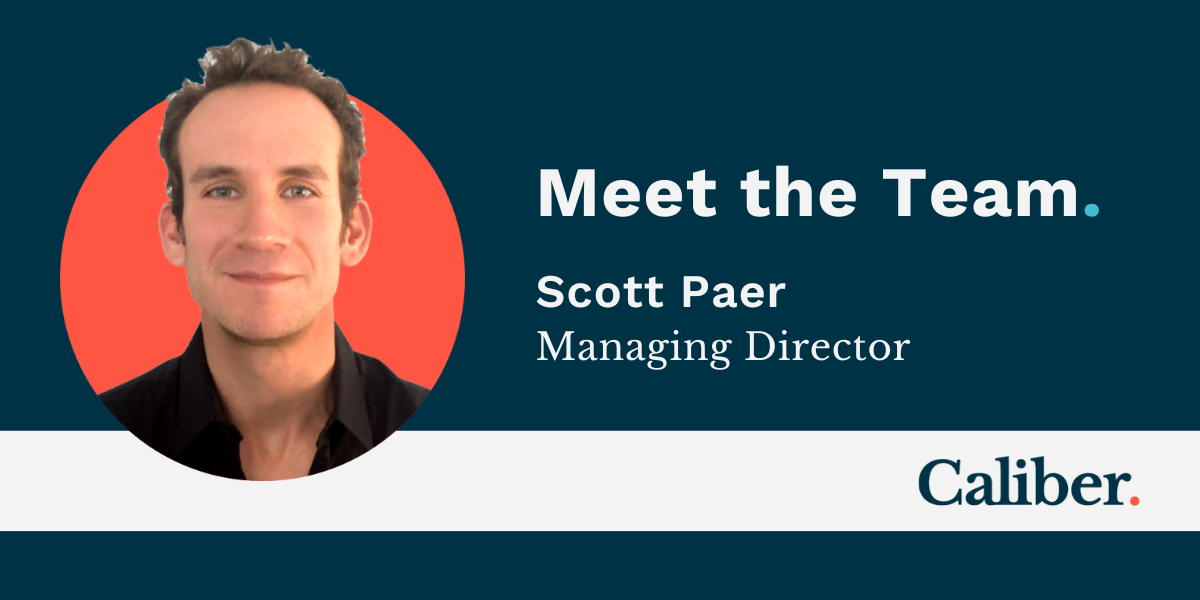 Kate Forster
Posted on Jun. 27, 2022
Public Relations
Staff Spotlights
Working at Caliber
Based in New York City, Caliber managing director Scott Paer joined the team in 2018 and has become one of our most senior public relations professionals. He sat down with Caliber culture manager, Kate Forster, to talk about his career in PR for financial services and fintech companies, his favorite things in NYC, the recent fintech funding boom and his middle-school date with a future TV star. Read more about Caliber managing director Scott Paer in his Staff Spotlight interview below.
Kate: Since we're currently a work-from-home friendly workplace, tell us about "home" for you!
Scott: I was born and grew up in Northern New Jersey (Tenafly). I have been living in New York City for the last twelve years. My home has become a second office in the wake of the Coronavirus pandemic. When I'm not working, I'm spending time with my wife and new puppy, JPEG.
Kate: What's your favorite part of your job as a Caliber Managing Director?
Scott: Logging on every morning and enjoying the people I work with.
Want to learn more about the Caliber team? Click here to read all about us.
Kate: What do you like to do outside of work?
Scott: I'm a huge sports fan; I love to watch NFL, college basketball (Go, Hoosiers!) and NBA. I love traveling; I went to Thailand and the Maldives back in November on my honeymoon and I'm traveling to Greece this summer! Lastly, I'll say TV; I have to confess that I watch an absurd amount of television…
I also definitely appreciate enjoying the little things in life, which got stripped away from us during the height of Covid – such as going to a bar or eating at a restaurant in NYC.
Kate: Since joining Caliber, what career milestone makes you proud?
Scott: It is less about me and more about the team. Caliber was roughly 8-9 people when I joined in 2018. Almost four years later, we are nearly 35 people – and have experienced tremendous growth on the client-side, too. I am just one piece of the puzzle, but I am proud of our growth as a company as well as my own professional development over this time period.
Also, I have been able to expand my industry expertise here. I came to Caliber with a strong background in asset management and capital markets. While that has continued, I have also had the privilege of working with and advising clients across numerous sub-sectors of fintech and financial services, including banking, real estate, insurtech, alternatives, etc.
Kate: What's one accomplishment from your childhood that you still brag about?
Scott: Hmm. Lea Michele (from Glee) grew up in my town and was my Bar Mitzvah date. Does that count?!
Kate: What's one thing that amazes you about fintech or innovation in financial services?
Scott: The sheer amount of money being flooded into fintech and the constant innovation from founders and entrepreneurs. You would think there is a product, platform or solution for every problem or need. However, it seems like every week there is another entrepreneur coming up with an idea, securing millions of dollars from investors and working with amazing engineers to develop new technologies and ultimately bring these to market.
Kate: If you had to include one ingredient in every meal for the rest of your life, what would it be?
Scott: This!! (He enthusiastically shares a jar of Trader Joe's Organic Spicy Honey Sauce.)
Want to join Scott Paer at Caliber? Check out our job postings page for open positions, including the best mid-level public relations jobs in NYC, Austin and remote! 
The Staff Spotlight Q&A series highlights Caliber team members for the stellar work they do each day and the important part we all play in the company. Read more Staff Spotlight Q&A posts to learn more about our top-tier team.
Back To Resources