Eight Takeaways from SXSW 2022
.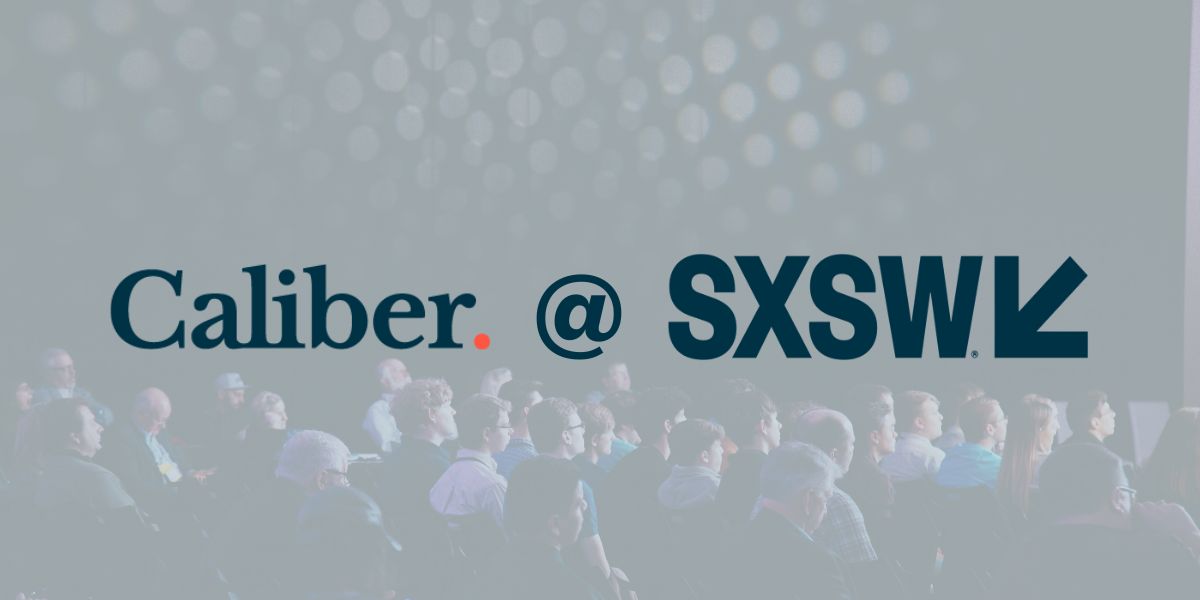 Laura Grace Pustmueller
Posted on Mar. 22, 2022
Fintech + Financial Services
Insurtech + Insurance
Proptech + Real Estate
Last week, some of our remote and NYC-based team members packed their cowboy boots and headed down to join our Austin, Texas team to attend South By Southwest, as part of our partnership with SXSW Pitch. We each left our time at SXSW with deeper fintech connections, new ideas and full bellies. Read on for our eight takeaways from SXSW 2022.
The Caliber SXSW 2022 Agenda
The weekend was jam-packed:
We attended SXSW Pitch and award ceremony.
We hosted Franklin & Fintech, an exclusive dinner for fintech executives to connect at Austin's hottest barbecue joint.
We co-hosted Fintech Luminaires, a networking happy hour with industry friends.
We hunted down breakfast tacos and waited in long lines for much-needed coffee.
We even squeezed in a few opportunities to check out the Expo, concerts and other fun SXSW festivities.
Eight Takeaways from SXSW 2022
Below, eight of Caliber's team members share their eight unique takeaways from their fintech-focused time at SXSW 2022.
1. SXSW created a rich networking scene by drawing a wide variety of fintechs and funders.
Harvey Hudes, Founder & CEO
This year we observed greater interest in attending SXSW and our networking events from companies within varied segments of fintech – from banking to insurtech to lending to payments to crypto. VCs were once again plentiful…SX is a great place to meet with investors in a laid-back environment if you're raising capital. In addition to traditional fintech, scouting for defi/web3, and social/impact investments appeared to reign supreme.
2. Face-to-face time at SXSW inspired us to seek out even more in-person time in 2022.
Grace Keith Rodriguez, President
SXSW was the event that brought a bunch of our team, clients and other movers and shakers in fintech together in-person for the first time in two years. Being able to spend 1-1 time with our team, whether they had also flown in from New York, Tennessee or live locally in Austin, was a refreshing change to our remote world of the past years. Forming stronger connections and really getting to know our clients who attended SXSW was a real highlight, as there's something about that in-person time that video can't quite replace. I left SXSW feeling even more determined to find ways to bring that in-person feeling to our remote work culture.
3. SXSW expanded our perspectives on emerging tech trends, which will help us be even better partners for our clients.
Kristie Galvani, Managing Director
Fintech, networking and BBQ were alive and well during SXSW 2022. It was great to attend innovative sessions and network with fintech executives during the first in person event I have attended in two years. One of my favorite sessions was the 2022 Emerging Tech Trend Report presented by futurist Amy Webb. I learned how to think bigger about AI, Metaverse and Synthetic Biology and how these areas may impact our clients.
4. You can make powerful connections over Texas barbecue.
Kyle W. Kempf, Senior Director
Few things facilitate friendly conversations like world-class brisket. SXSW is a sprawling event, teeming with artists and music and film fans but there also is a sizable and growing fintech community. It was fun listening to founders and investors at Caliber's intimate event at the (justly) famous Franklin's Barbeque swap ideas, share news, and swoon over the best brisket I've ever had. (I double checked with some leftovers the next day to be sure.)
Want to see which 2022 fintech events are must-attend?
5. Yes, you will find more than music and parties at SXSW.
Sarah Leach, Marketing Manager
When speaking with friends about SXSW, I frequently heard: "But, isn't SXSW a music festival? Why are you going with Caliber?" I was excited to educate them about the impressive conference element of SXSW that draws start-ups and tech-focused innovators. I witnessed the 2022 SXSW conference themes throughout my weekend – from a truly-inspiring chance encounter with a SXSW Pitch finalist to fabulous dinner conversation with Caliber clients and new fintech friends. As a first-timer, I quickly learned that the fintech community is both tight-knit and open. The fintech and finserv space is growing tremendously, but it still feels like an intimate community because people are eager to get to know each other and dream about what could be. If you work in fintech or finserv and are hesitant to attend SXSW for the first time next year, know that your industry peers will eagerly welcome you, bring you into the fold, and ensure that you leave with a desire to come back to SXSW 2023.
6. Fintech folks are ready to get back to in-person events.
Ross Stevens, Senior Account Executive
It's clear that the fintech community is alive and well following the brunt of the pandemic. There's a community of great people across the industry that is eager to get back to in-person events and networking, as well as connect on a more personal level. My time at our fintech events and at SXSW 2022, in general, was a warm welcome back into the world of events, and I enjoyed making connections with people across the financial services, fintech, proptech, insurtech and VC spaces. I witnessed a clear eagerness to hit the ground running post-pandemic.
7. Gender diversity is growing in the tech and fintech sectors.
Laura Grace Pustmueller, Marketing & Events Executive
A main theme SXSW Pitch highlighted this year (and one that I observed first-hand at our fintech-focused networking events) was increasing gender diversity within the tech sector. U.S. VC funding for female-founded or co-founded companies has been trending up in recent years. Pitch showcased an impressive roster of female founders in this year's group of startups, with 47% of the participating companies at SXSW Pitch having at least 1 female co-founder. If you missed Pitch this year, it's one you should add to your SXSW schedule for next year – it's inspiring to say the least!
8. SXSW is back, baby.
Aarzoo Jena, Account Coordinator
While it seemed like the pandemic put the world on pause for a bit, SXSW 2022 proved that innovation and creativity know no bounds. From fintech and financial services to filmmakers and musicians, it was clear that people are enthusiastic about showcasing their work, and more so about making connections in person. As for tech, be it fintech or insurtech or proptech, SXSW is a great event to network with fellow professionals and VCs during different parts of the event.
The fintech community has long awaited and greeted with open arms the return of in-person events (safely, of course). A special thank you to our Franklin & Fintech at SXSW 2022 event partners: The Financial Revolutionist, Alloy Labs, Rise New York and Episode Six.
Back To Resources